Custom Engraved Pet Memorials
Your pet may have left your life, but they will never leave your heart!
Our pet memorials are made of 100% natural granite.
Our pets love us unconditionally.
They become part of our family.
And it hurts so much when they leave us.
A pet memorial can help ease the pain and provide closure.
We can help.
We manufacture quality pet memorials to honour your pet's life.
So you can always remember your lost pet...
And reflect on the "magic" moments you've shared together.
Enter Your Pet's Information & Customize Your Memorial
Once approved, we'll engrave your memorial and ship it to your door.
Pet Memorials That Lasts A Lifetime
Uniquely crafted to your specifications.
We offer several styles of pet memorials. Some are designed to lay flat on the ground and others to stand upright.
You can customize your pet memorial any way you'd like!
Get Your Pet Memorial Locally
Professionally engraved in-house at our factory in Ontario, Canada.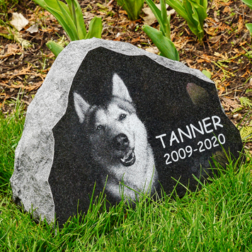 The quality of the finished product was nothing short of perfect. I would strongly recommend this to anyone looking to honour their pet.
Leonard M.
Brantford, Ontario, Canada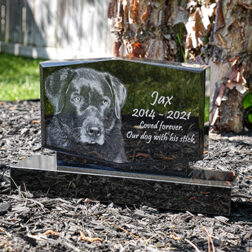 Kind and caring from start to finish The design approval process was very easy and we were able to have a bit of editing done to the portrait with no problem at all. We were notified a few days later that it was done and shipped and it arrived on our doorstep a few days later in perfect condition. The memorial stone took my breath away, it was beautiful and so much more than I had hoped The care and kindness was genuine and I will recommend using Furever Memorials to everyone.
Shelley R.
Omemee, Ontario, Canada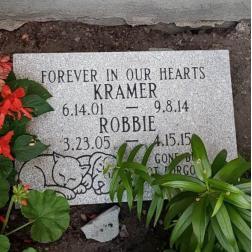 We were searching for a way to memorialize the memory of our departed furr babies, and are very happy we found Furever Memorials. Our stone adds a special touch to our garden and is a daily reminder of their memory.
Adrienne T.
Rockland, Ontario, Canada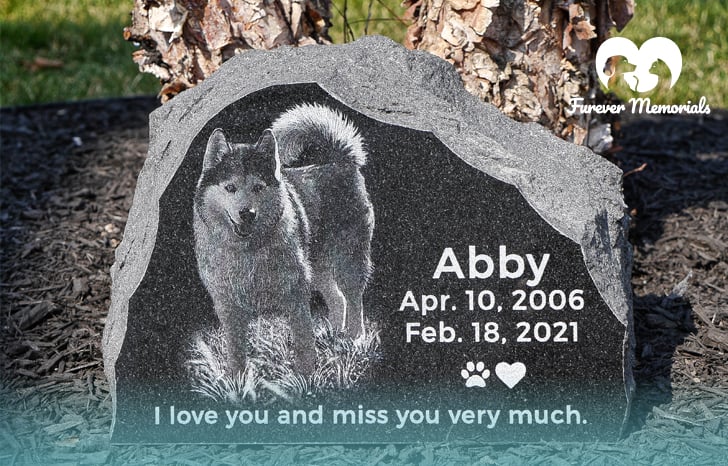 There are many great ways to honour the memory of our pets, such as donating to an animal shelter, keeping their ashes in an urn, or having an imprint of their paw in a place we can see it daily. One other fantastic way is by having a memorial marker made to keep in the home, yard, or garden where you can see it every day and remember your pet with fondness.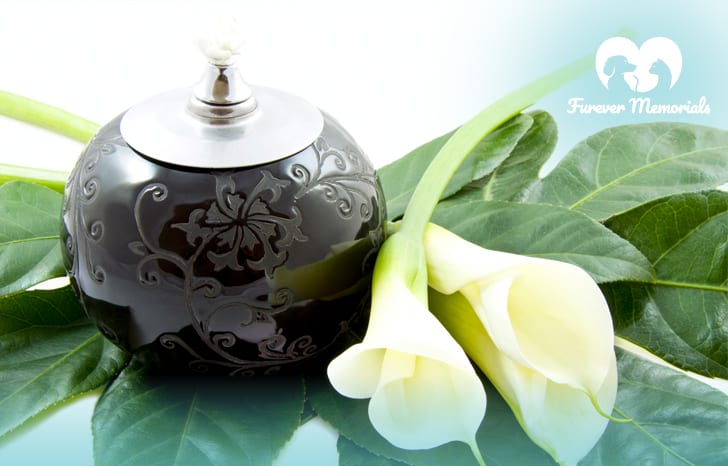 Planning a pet funeral comes at one of the most grief-filled and sad times in a pet owner's life. Losing something as precious as a pet can make it impossible for you to think straight, much less plan a funeral that honours your pet and celebrates your time together. Here are some ways to plan and host the perfect funeral for your pet.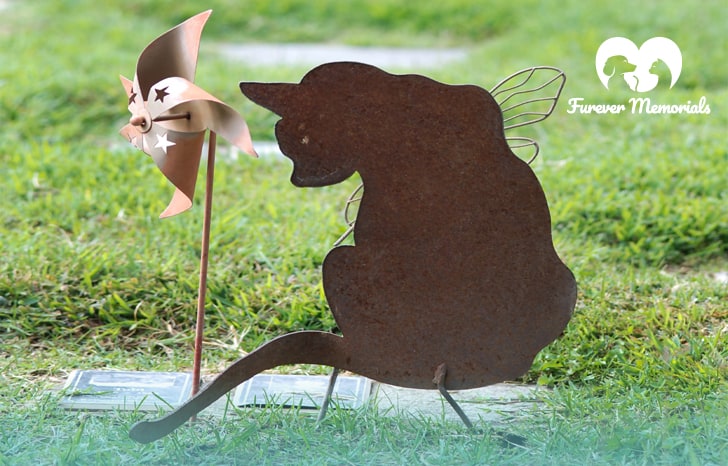 My name is Jean Cote. You can see me with my dog Onyx in the picture to the left.
I'm the founder of Furever Memorials. I've been a pet lover all of my life. Sadly, my dogs passed away after raising them as puppies at age 12 ½ and 15 ½.
This prompted me to find the "best" pet memorial to honour their life and memory. Unfortunately, nothing I found was good enough. So I made my own!
And today, I continue to manufacture pet memorials for others who also want the very best for their pet.
Voluptatem nemo enim ipsam voluptatem quia
Sed ut perspiciatis omnis natus error