What Our Customers Say About Us
Below, you will find testimonials from our customers. Find out what they think about their pet's memorial we made for them, about our craftsmanship, and about us generally as a company.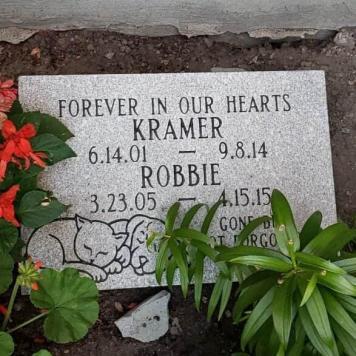 We were searching for a way to memorialize the memory of our departed furr babies, and are very happy we found Furever Memorials. Our stone adds a special touch to our garden and is a daily reminder of their memory.
Adrienne T.
Rockland, Ontario, Canada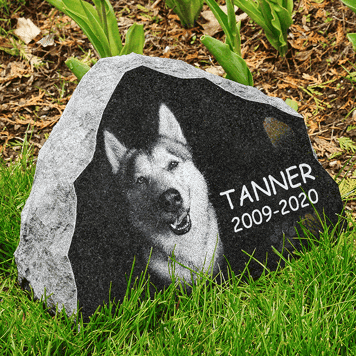 The quality of the finished product was nothing short of perfect. I would strongly recommend this to anyone looking to honour their pet.
Leonard M.
Brantford, Ontario, Canada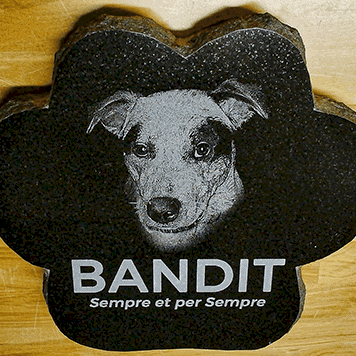 Our memorial came out beautifully. Even though we gave a photo that wasn't optimal, it turned out exactly as we'd hoped. The process to communicate and approve was very timely and easy. We were very happy with how quickly we received the memorial. Jean was very empathetic and compassionate to us during a very difficult time after the passing of our dear boy, Bandit. We would definitely recommend Jean!
Angela P.
Kelowna, British Columbia, Canada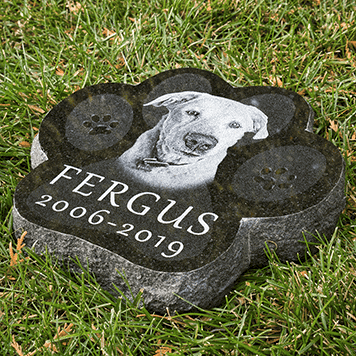 If you're looking for something to remember your pets by, this is definitely the best option. Corresponding via email, Jean completely understands the loss of a pet, and how heartbreaking it can be. He really listens to your experience, and you can tell he puts his passion into his work. In other words, it's clear to me that this is more than just a business to him. I took his advice and picked the best photo I could find of my dog, that gave me the happiest of memories. My choice of photo was also based on the quality of the photo and how its detail would be transferred to the stone, which I was informed was very important for the final product. It turned out amazing, everyone that sees it wants one too. I can not express in words how much this marker has soften the untimely departure of a dear friend, and how much this means to our family.
Amanda M.
Niagara Falls, Ontario, Canada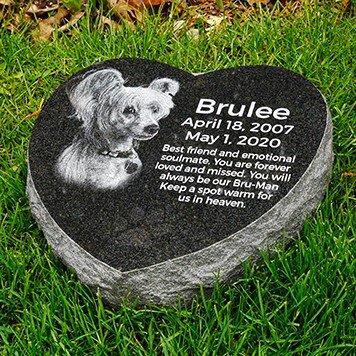 Brulee's Grave Marker arrived this week much fast than expected. I think it turned just awesome. The photo engraving absolutely captures the essence and beauty of Brulee. The image is so clear that it looks like a black and white photograph. It took me a long time to find a grave marker as thick and as high quality as Furever Memorials. Most of the other markers online were 3/8" slate or ceramic and would break if a lawn mower or a person would walk over it. I was so happy when I found Furever Memorials with such thick and robust granite pieces. The price was extremely competitive for such quality workmanship. Jean worked with me to get the perfect photo, saying, and stone shape that would honor Brulee the best. None of the competitors could even come close. It only took 2 weeks from the time that I placed the order until Brulee's marker arrived at my door. Unbelievable turnaround time. I will always be grateful to Furever Memorials for providing such a beautiful marker for my beloved pet and longtime friend.
Kathy V.
Deltona, Florida, USA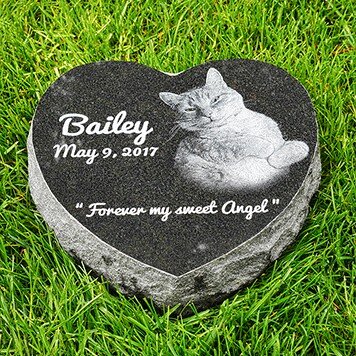 I'm very happy with the final product. The process was great, and they even made some adjustments to the photo before etching for me. I had the product much faster than I ever anticipated, even with customs. Thank you 💜
Amy S.
Ashland, Ohio, USA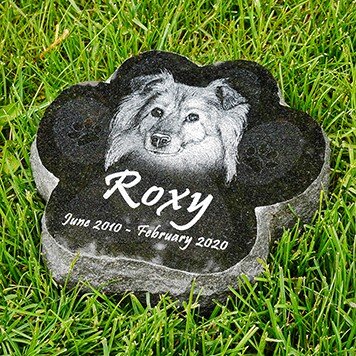 From beginning to end, the entire process was flawless. Everything occurred exactly as was promised and to PERFECTION! I cannot express how grateful we are to have a beautiful memorial piece of our dog. She was loved as all pets should be. Her beautiful face is now in our garden under her favourite tree. Thank you so much!
Shannon L.
Clarence-Rockland, Ontario, Canada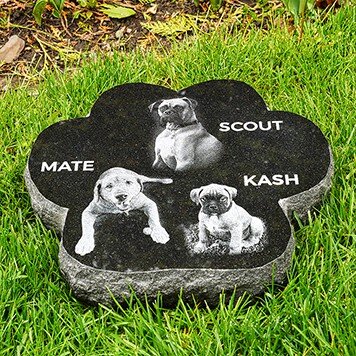 Our pet memorial stone is beautiful!!. Jean's design and craftsmanship was what we envisioned and more.
Kerry M.
Beamsville, Ontario, Canada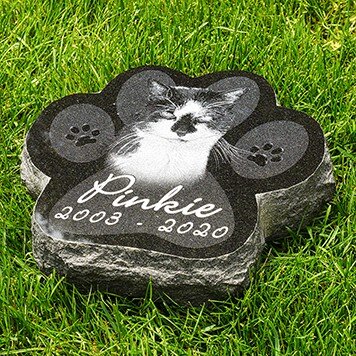 Brandi K.
Traverse City, Michigan, USA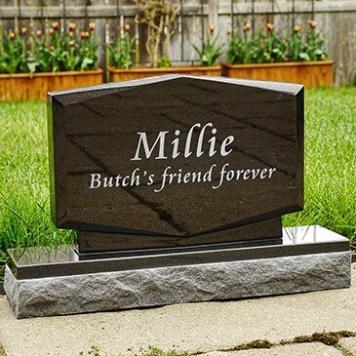 Very pleased with the service provided and excellant customer service. You really made sure the engraving was perfect before proceeding.
Elaine W.
Cathcart, Ontario, Canada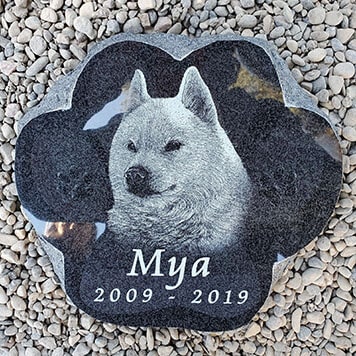 Loved it. Great quality, fast service and shipping. A great addition to her favorite spot in the backyard.
Jennifer B.
Wawa, Ontario, Canada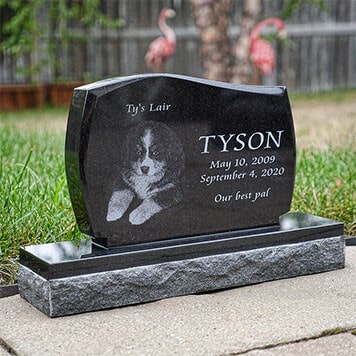 On the day we had to put our beloved Bernese Mountain Dog Tyson down, we began searching for a suitable memorial. We wanted to be able to capture an image of Ty on the stone, but ceramic tiles and laser etching seemed to fade with time. In contrast, we discovered that Furever Memorials uses diamond impact engraving, which provides a deep, permanent image. I contacted Jean Cote and sent him a sketch of our idea. Within two days we reviewed a proof of the engraving by email and placed the order. Jean completed the engraving two days later and we just received the beautiful memorial which exceeded our expectations. Thanks Jean!!
Jim R.
Sudbury, Massachusetts, USA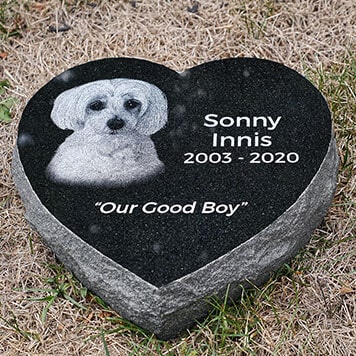 From start to finish it was a flawless process. Great website with great communication. The product came quick and was beyond amazing. Thank you so much for this amazing piece of art.
Stirling I.
Newnan, Georgia, USA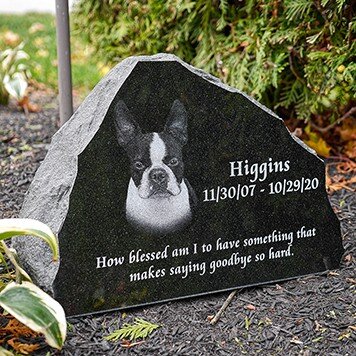 My pets headstone turned out amazing! The process was very simple and all of my questions were answered very quickly. The craftsmanship of the engraving is superb. I would highly recommend them to anyone.
Tim H.
Ridgefield, Washington, USA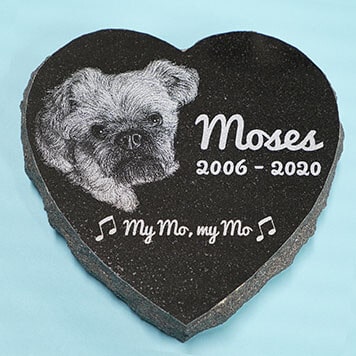 I would like to start with the design process! I had a special request to put music notes on the memorial, so I had to write it in, and was not really sure if I had described it well enough- but a proof came through and you nailed it! The quality is stunning, my Moses' photo turned out spectacular! The stone itself is gorgeous. The timeline/process was expedient, and the shipping was timely. I was very emotional when I opened it, it's a work of art- fitting for my departed best friend. Your product exceeded my expectations! Thank you for my FURever Memorial.
Jenn W.
West Winfield, New York, USA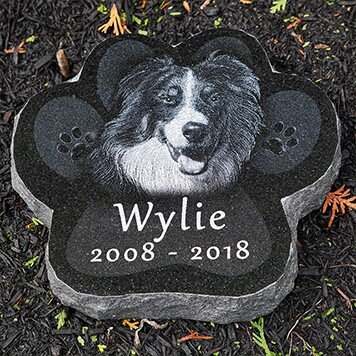 Our Friend ordered one and it was beautiful. This is a gift for our friend that keep saying we miss Wylie so much everyday!
Lori C.
Airdrie, Alberta, Canada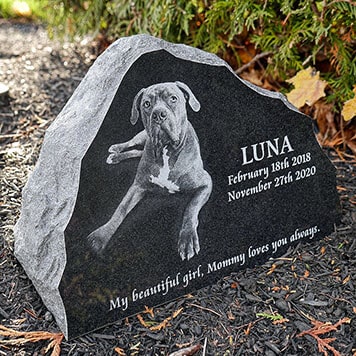 The memorial I commissioned was top quality, just as you would expect to find for a person. It was exactly what I was looking for, offering both the perfect size and quality. The design and approval process was exceptionally quick and easy. Communication was prompt and excellent. I expected to wait months for something like this, and pay thousands of dollars. It was so affordable and in no time at all I had my beautiful memorial. It is perfect! The picture is stunning and engraving is exactly how I wanted it. Thank you so much Jean!
Robyn Hallet
Didsbury, Alberta, Canada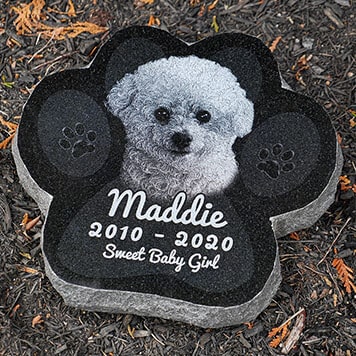 It is all I hoped for and then some. So comforting to see that sweet face every day. Highly recommend Jean. Work is excellent and turn around time very short. Thank you Jean.
Cheryl Bacon
Bright's Grove, Ontario, Canada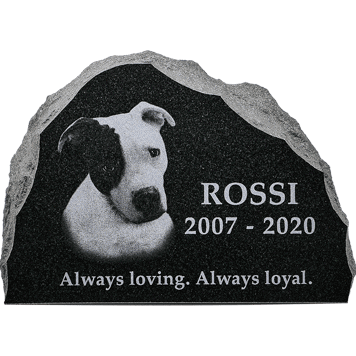 The quality of our Rustic memorial for our beloved Rossi is amazing. The image of Rossi on the granite was so clear. The entire process from picking the right memorial, ordering, approving the proof, manufacturing, and shipping were seamless. Jean was a true professional who has this entire process down to a science. But what I admired most was that Jean puts his heart and soul into these memorable pet memorials because he also knows what it is like to lose your beloved friend. Thanks Jean!!!
Paul T.
Staten Island, New York, USA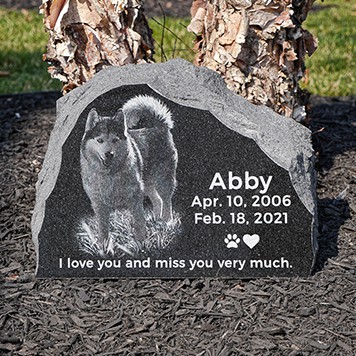 My pet memorial I received was the most beautiful memorial stone I've every saw for my Abby. The quality engraving and design was just remarkably beautiful.
Becky A.
West Union, South Carolina, USA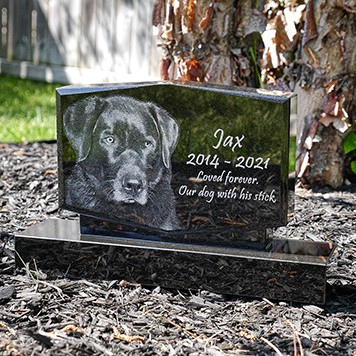 Kind and caring from start to finish The design approval process was very easy and we were able to have a bit of editing done to the portrait with no problem at all. We were notified a few days later that it was done and shipped and it arrived on our doorstep a few days later in perfect condition. The memorial stone took my breath away, it was beautiful and so much more than I had hoped The care and kindness was genuine and I will recommend using Furever Memorials to everyone.
Shelley R.
Omemee, Ontario, Canada
Jean's compassion and quality of service have surpassed all of our expectations! During the weeks after Zen passing, Jean designed a memorial for our beloved pup that both captured Zen's spirit and brightened our hearts during some very difficult days. Jean's craftsmanship has left an indelible mark on our family and he will be our go to for all future family memorials.
Joy D.
Sechelt, British Columbia, Canada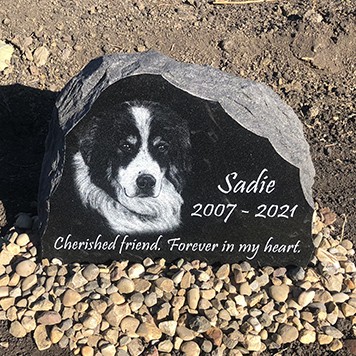 I definitely made the correct decision in entrusting Furever Memorials to manufacture a memorial for Sadie. It is more beautiful than anticipated and even captures the expression in her eyes.
Allison M.
Clive, Alberta, Canada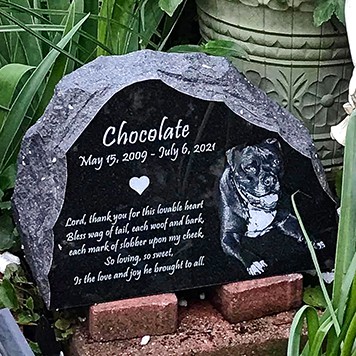 Thank you so much for this beautiful memorial stone! I came out so wonderful. It was very Emotional for me to open the box. I placed it in the garden as he loved being with me while I did garden work and he loved to smell flowers.
Pam M.
Medford, Massachusetts, USA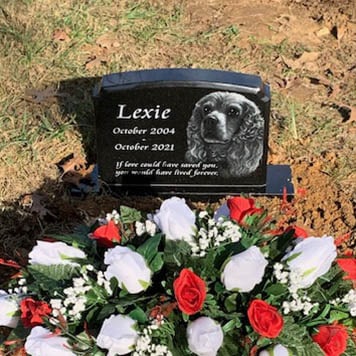 The headstone for my sweet Lexie is gorgeous. When I was sent the preview I cried because it was so beautiful. The stone is great quality and the engraving is perfect. The approval process was easy and they were nice enough to delay the engraving because my furbaby kept fighting and pulling through. Once she did pass away, I had the headstone within two weeks.
Amanda M.
Crestwood, Kentucky, USA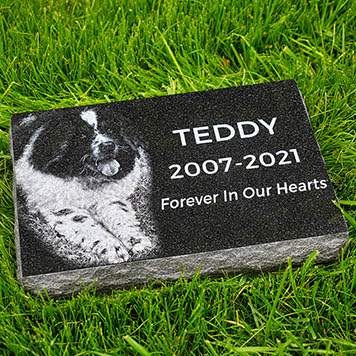 Excellent quality and timeframe satisfactory.
Doug M.
Grand Bend, Ontario, Canada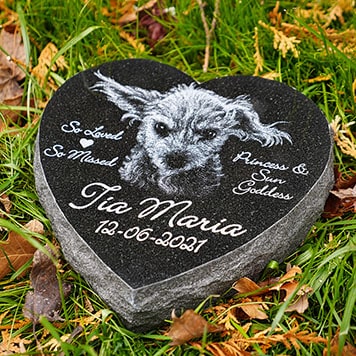 We were so heartbroken when it was time to let our little girl go. She came to us through a rescue as a palliative senior. A few months of care and love and she showed us her incredible spunky personality and stamped her mark on our hearts. We enjoyed a wonderful two years with her brining joy to our home.
Jean from Furever memorials created a beautiful remembrance marker that my family is beyond grateful to have. The ordering process was easy, clear and his prices were very reasonable. He was very honest about limitations with our design request but worked with us to create the perfect memorial. He was always very professional but still caring and gentle with his communications. Our family highly recommends Furever Memorials to celebrate the life of beloved pet in such a beautiful and timeless way.
Natasha H.
Colborne, Ontario, Canada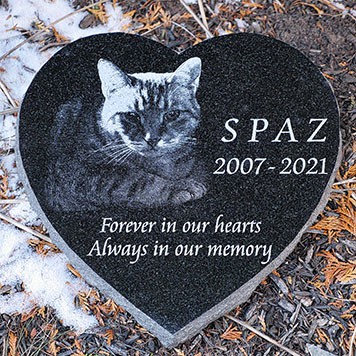 Beautiful material and the likeness to the photo was immaculate. Maybe it was the photo but I anticipated the contrast to be a bit higher. Other than being a bit dark though, the likeness was amazing and I can easily see my cats features in the memorial. I am very happy with the outcome and service.
Derek L.
Moorefield, Ontario, Canada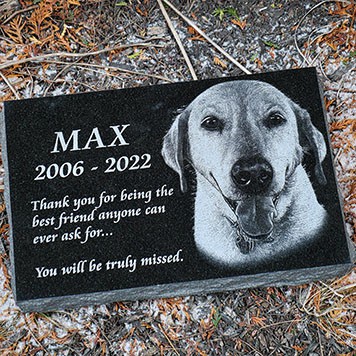 I was beyond excited when I opened the package! It turned out way better then expected. The process was so easy to follow and they take care of you like your family.
EmiLee R.
Saint Croix Falls, Wisconsin, USA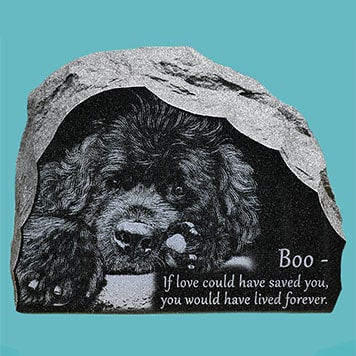 This memorial was as beautiful as any in a graveyard. The quality is high. I was very pleased.
Kelly D.
Brantford, Ontario, Canada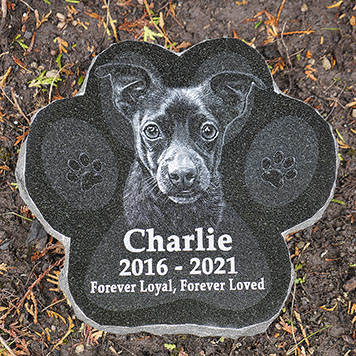 Jean was absolutely wonderful during the entire process. When I received my memorial, I was taken aback by how beautiful it was. The design and shading for my all black dog on all black granite was a task in itself and Jean made it look flawless. It was above and beyond all of my expectations for a pet memorial.
Ashley B.
Greenfield, Missouri, USA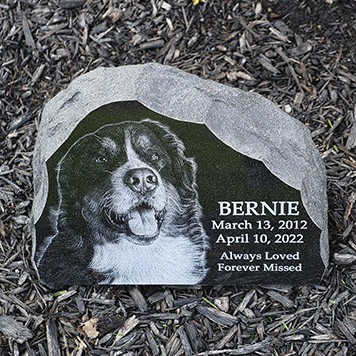 Thank you so much, the memorial stone for our dear Bernie turned out beautiful! We were so happy with the end product, and the picture and engraving turned out so well. I really appreciate the communication and responses from Furever Memorials when ordering our stone.
Heather M.
South Mountain, Ontario, Canada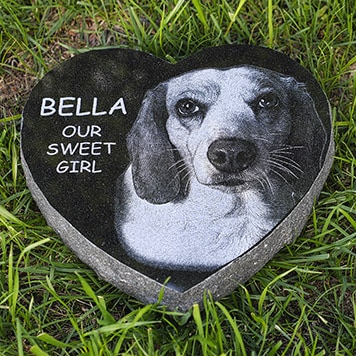 Kept up to date through the whole process & the quality was excellent.
Andy W.
Bright's Grove, Ontario, Canada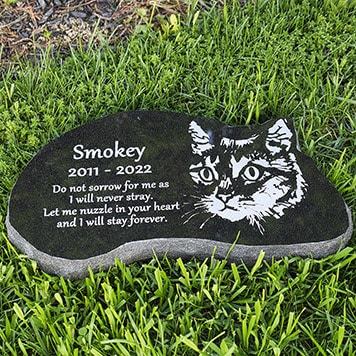 Very professional and sincere service from start to finish. Was pleasantly surprised to see my vision on paper was what I actually received. Not sure what I was expecting but the beautiful stone certainly exceeded all my wishes. You can feel confident that you are in the right place.
Steve K.
Tottenham, Ontario, Canada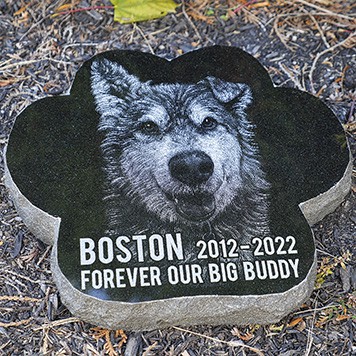 Thank you so much for the memorial you did for Boston. From start to finish you were extremely helpful. We had some major tears when we laid it to rest in the garden, but it looks amazing and for that we are super grateful. Thank you. 5/5*
Kyle K.
Saskatoon, Saskatchewan, Canada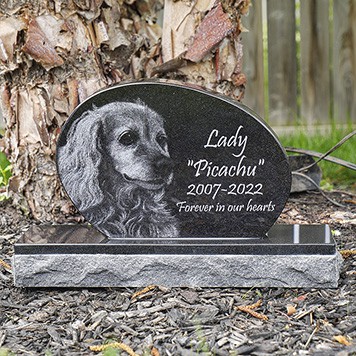 The quality of the memorial is amazing! The stone, the engraving and the image are just perfect! Not to mention that the communication and the overall service were above par! Thanks for everything. It's as if she's still with us.
Gerard R.
Laval, Québec, Canada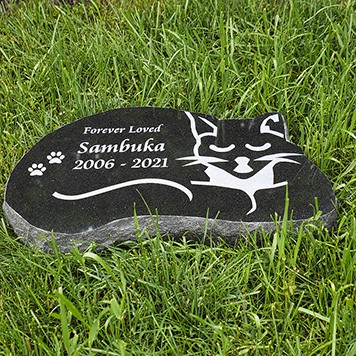 Very quick service . Sent a design for approval same day we ordered . Very well made and excellent quality.
Carla S.
Perth, Ontario, Canada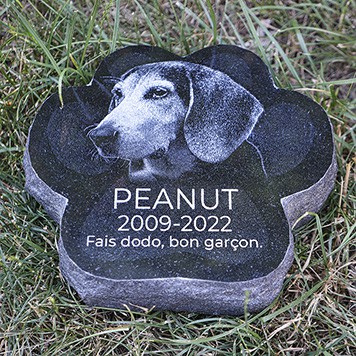 The engraving for Peanut's memorial stone is incredible. We sent them a high-res photo and they make the necessary adjustments to it to make for the best engraving possible (like highlighting his whiskers). We have placed the stone in our garden and I look at it everyday to remember what a special dog Peanut was. Thank you so much!
Chantal B.
Westport, Ontario, Canada
Would you like us to create a beautiful memorial in your pet's honour?