Every pet memorial and monument that we sell here at Furever Memorials is made of 100% natural granite stone. Although granite is extremely durable, it isn't indestructible.
In this article, I'm going to share with you some helpful tips to keep your granite pet memorial looking beautiful for years to come.
TIP #1: Place your pet memorial in a safe and dry location.
Most pet owners like to showcase their pet's memorial in a high traffic area so that many people can see it.
However, it's important to place it in a location where nobody could accidentally step on it. This is especially true if you live in a colder climate and the memorial could get covered in snow during the winter.
Also, be mindful of how the area is going to be landscaped. Try to avoid placing the memorial directly on grass as there is a risk of a lawn mower or trimmer hitting the granite. A blade inside a lawn mower spins at very high speeds, and if it hits the granite, it will severely damage it.
What's the best place? In a garden on top of mulch.
Most of our customers choose to place their pet memorial in a garden for two reasons.
REASON #1: It is typically safe from landscaping equipment and from people accidentally stepping on it.
REASON #2: It keeps the memorial elevated from the ground and provides adequate drainage for when it rains.
If you have a flat marker or footstone (like one of our Pet Paws or Pet Hearts, as shown below) and you position it on grass, then over time, the weight of the granite will make it sink into the ground.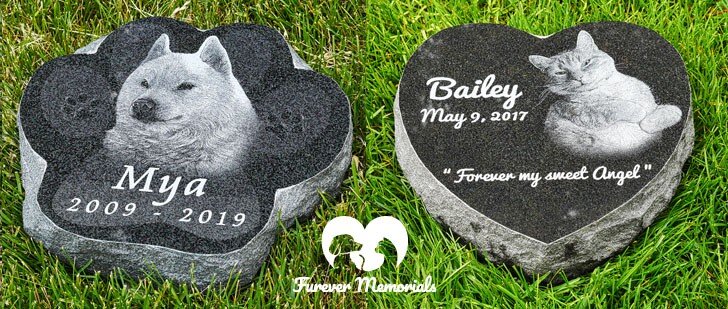 This leads to water accumulating on top of the stone, especially if it sinks lower than the ground. As the surrounding grass around the flat marker acts as a barrier and there is no way for the water to drain. The water attracts dirt which then dries up on the stone.
A good solution for this problem is to angle the flat marker so that the top portion of the stone is higher. This way, when it rains, the water will simply run off the bottom of the stone.
An added benefit of angling the flat marker is it makes it easier to read from a distance.
If you have an upright headstone (like one of our Mini-Memorials, as shown below) it's best to keep it levelled. As long as the bottom of the memorial is 1/4″ to 1/2″ above the ground, then the water will run off and the weather will dry it off.

TIP #2: Keep your pet memorial out of the hot sun.
Granite can get extremely hot in the sun, especially during the hot summer months or if you live in a hot climate. In fact, it can get so hot that you need gloves to touch the stone to prevent burning yourself.
Although granite is made to withstand the harshest of weather, leaving your memorial in direct sunlight for months and years on-end could lead to the granite or engraving fading.
What do we recommend? Partial shade. Because it provides adequate sun coverage to keep the memorial dry and cool to the touch while protecting it from the hot afternoon sun.
With that said… Try to avoid any areas where your memorial would have a hard time drying. Moisture attracts dirt and it could lead to moss growing on your memorial.
TIP #3: Be careful of your jewelry!
As a rule of thumb, always remove your jewelry before moving or cleaning your pet memorial. This includes rings, watches, bracelets or any sharp objects on your clothing (such as a zipper) that could scratch the surface of the stone.
A few years ago, a client of ours accidentally scratched her memorial with her diamond engagement ring while cleaning it.
She was in tears.
Luckily, we were able to make her a new memorial.
TIP #4: Always use a microfiber to clean or wipe down your memorial.
Avoid using anything other than a microfiber towel to clean your pet memorial. Shop rags or paper towels are not ideal, as they could create micro scratches on the surface of the stone.
It's normal to leave smudged and/or fingerprints whenever you touch the polish on your granite pet memorial. Those are easily cleaned using a dry microfiber towel.
To wipe down your pet memorial, simply fold a microfiber towel in two or in four, and lightly press against the surface of the stone while making a circular motion. This should remove most of the contaminants on the stone.
NOTE: Make sure that the tag on the microfiber towel isn't rubbing on the stone as you wipe it down.
TIP #5: Do NOT use harsh chemicals.
It is extremely important that you stay away from using any harsh chemicals on your pet memorial. Even if the bottle says it's made for cleaning granite or cemetery headstones.
A lot of these solutions are acid-based cleaners, and they will damage the polish on the granite. The polish is the smooth finish you feel when you glide you finger on the top of the stone, and if it gets damaged, then it will affect the readability of the engraving.
We recommend using a couple of drops of mild dish soap in a bucket of water. And as previously mentioned, always use a microfiber towel.
Do not use a brush or a sponge. And definitely don't use a pressure washer!
Instead, soak a microfiber towel in the bucket and then use the same technique as previously described (by folding it and applying light pressure on the stone while moving in a circular motion.)
TIP #6: Wash your pet memorial in the shade.
Try to avoid washing your pet memorial in direct sunlight. Why? Because black granite can get extremely hot in the sun and if you apply a cleaning solution to the surface of the hot stone, most of the water will evaporate and it will leave behind the solution which is very hard to remove.
To avoid this problem, simply wash your stone early in the morning while it's still cool to the touch, or move it to a shade location. Or alternatively, place a beach or patio umbrella above the memorial to cool it down while you clean it.
NOTE: Once you've washed your pet memorial with the dish soap solution, it's important to rinse it off immediately using a garden hose or another bucket of water with clean water. DO NOT let your memorial dry with the solution still on the granite.
So… That's about it!
Hopefully you found this guide to be helpful. Feel free to ask any questions you may have in the comments section below.
(Yes, we will read and reply to your question!)