Burying a pet that has recently passed away in our backyard can make us feel like our pet is still close to us. The question remains, is burying a pet in the backyard legal?
The legality of burying a pet in a backyard depends on the laws of your municipality. Those that allow it typically require that the burial site be between 2 to 4 feet deep and be 30m to 150m away from a water source.
From my own research, the following provinces have the following regulations.
Please reference to the documents linked to inside the table to get the exact rules and regulations for the provinces as I could not include every requirement for simplicity sake.
It is also strongly advised that you confirm the legality with your municipality before burying your pet in your backyard.
I was not able to find the applicable law or regulation for every province. For example, for pet owners living in New Brunswick, Nova Scotia, Prince Edward Island and Saskatchewan, you may want to contact your municipality directly.
If you happen to come across this information, please contact me and I will add it to this page.
Related Questions
How can I safely bury a pet in the backyard? Burying a pet can be done safely by following these simple steps…
Time is of the essence. You should bury your pet within 24 – 48 hours of their passing to keep their body from decomposing. If you are unable to do it within this timeframe, you can freeze your pet's body. Freezing the body will prevent decomposition.
Double-check with your local municipality that you are in fact allowed to bury your pet in your backyard. If it's legal, then find a spot in your yard that adheres to the rules and regulations as given to you by your municipality. Oftentimes, they require that your pet's burial be a certain distance from a water source.
Call your utility companies and ask them to locate your yard for water, electrical and gas lines. They will come and spray paint where the lines are in your yard. Be aware that this process can take several days or weeks to complete, so you may need to freeze your pet's body in the meantime.
Dig a hole for your pet's grave. The depth of the hole needs to be in accordance to your municipalities guidelines. It is often between 2 and 4 feet deep. The deeper it is, the better it will be to prevent other animals and rodents from digging the grave.
Wrap your pet in a cloth or place your pet inside a pet casket that will decompose. For example, one made out of wood. Do not bury any toys or any other objects made out of plastic, as they won't decompose over time.
After you fill up the hole with dirt, place a few stones on top to indicate where your pet was buried. If you want to truly honour your pet, take a look at some of our granite pet memorials that we custom-engrave here at Furever Memorials. They can be engraved with your pet's photograph and look very realistic.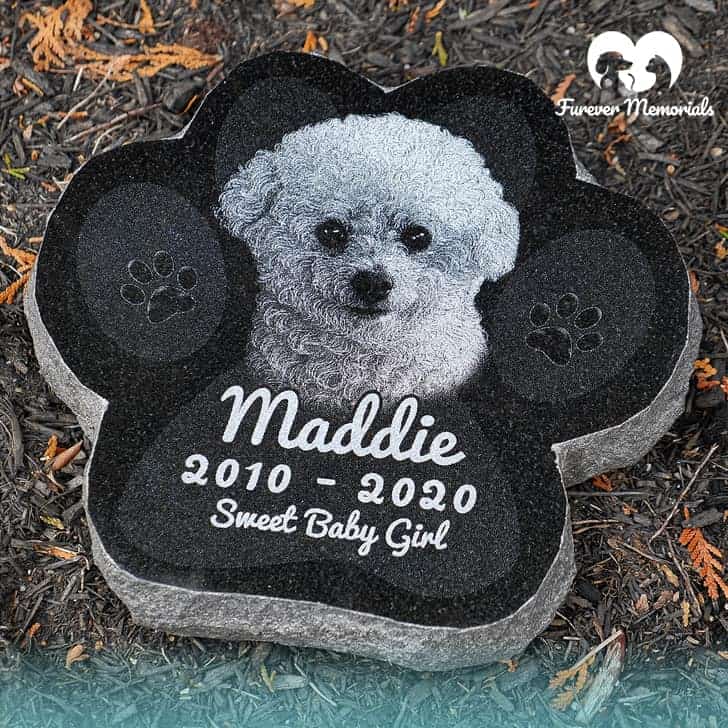 Is burying a pet in the backyard a good idea? It can be under the right circumstances. However, one should consider the following…
Pros of burying a pet in the backyard
It is much cheaper to bury a pet in the backyard than it is to have your pet cremated or buried at a pet cemetery. Some cities only have one pet crematoriums and they have been known to take advantage of this fact and charge grieving pet owners several hundred of dollars to cremate a pet.
Burying a pet in the backyard is quick, easy and simple. It only takes a shovel, cloth and/or biodegradable pet casket.
An intimate funeral for your pet can be held in the privacy of your own backyard. There's no need to travel anywhere or need to pay someone for plots or digging the grave as you would have to at a pet cemetery. There's no funeral director to meet or talk to. Just you, your family, and a quiet funeral.
Having a pet buried in the backyard can be very comforting to those who want to feel like their pet is still nearby. They can also take meticulous care of the grounds after the burial and build a garden on or near the grave. They can also choose any pet memorial that they like and are not limited to any size regulations from pet cemeteries.
Cons of burying a pet in the backyard
If you ever move, you won't be able to bring your pet's remains with you. And you will most likely need to inform a potential buyer of your property that a pet was buried in the backyard, which may or may not deter someone from buying the property.
If your pet passes away in the winter, the grounds may be frozen and you may not be able to dig a grave. Special equipment could be rented to dig even if the grounds are frozen, however this is costly. An alternative is to freeze the pet's body until a grave can be dug. However, not many people are comfortable with the idea of having their pet's body in a freezer for months.
If your pet was euthanized or has passed away from a contagious disease, then it could be very dangerous to rodents or other animals who may dig up the grave. They could ingest some of the anesthetic agent or contract the disease. In those cases, a cremation is recommended.
Are there alternatives to burying a pet in the backyard? Yes, the two most common ones are cremations and burying a pet at a pet cemetery.
Cremating your pet
Cremating a pet is more costly than burying a pet in your backyard. It can cost anywhere from $200 to $500 depending on the size of your pet, and whether or not you want your pet to be cremated with a group of other pets or by themselves.
One of the biggest benefits of cremating your pet is being that you can take time to grieve before holding a ceremony or a funeral for your lost pet. Some pet owners keep their pet's ashes in their home for months or years before they feel like they are ready emotionally to hold a ceremony.
Cremating a pet gives more options to honour your pet. For example, you can scatter their ashes legally in most public places, including hiking trails and beaches. You can also bury them on most private properties without having to dig very deep. Alternatively, you can get creative and do something unique, like burying their ashes underneath a new tree which then grows to become a memorial tree.
Burying your pet at a pet cemetery
Pet cemeteries have raised in popularity in recent years. They are a convenient and safe way of burying a pet. You can rest easy knowing that your pet will forever be remembered.
Their downside is the cost. It can cost anywhere from $500 to $3,000 to bury a pet in a pet cemetery. It depends on where you live and the size of your pet. And of course, what kind of plot you are getting, etc. Some pet cemeteries, like the Masters and Companions, have special sections that allow you to be buried with your pet when your time comes.
There is typically a maintenance fee that comes with burying a pet at a pet cemetery. This fee includes grass cutting, some cemetery maintenance and fixing headstones. Most of these smaller cemeteries are privately owned and they rely on this fee to keep the cemetery immaculate for the next 10-50 years.
Some pet cemeteries allow you to erect a full-size headstone or pet memorial in your pet's honour. The same size you would expect to see in a cemetery for humans. It's important to get in touch with the pet cemetery ahead of time and see what their rules and regulations are before ordering a pet memorial from us. Our granite pet memorials are smaller (and much more affordable) than the ones for humans.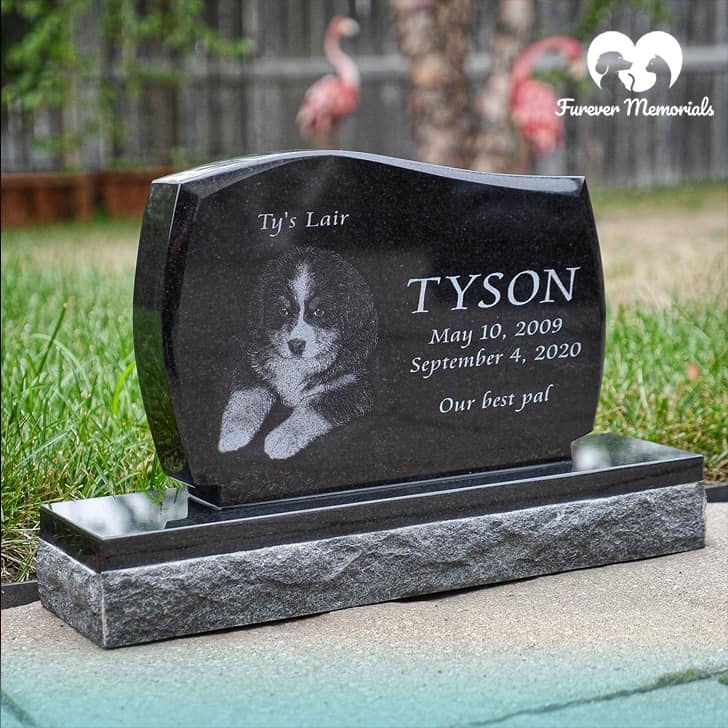 Final Thoughts
Nobody wants to bury their pet. Whether it's in the backyard or at a pet cemetery, the mere thought of having to bury your pet can be a very somber subject.
However, death is unfortunately part of life and as pet owners, we have to take care of this when our pet passes away.
I hope that this article has helped you clear a few things up for you in this difficult time.