For those who don't know me, my name is Jean Cote, and I'm the founder of this website. It's possible you may have heard of this new business from one of my other websites, Success Dogs or the Dog Trick Academy. Or perhaps you've been referred by a friend on social media.
Either way, welcome!
I wanted to take a moment to write about why I created this new business and what my vision is for it in the future.
As you can imagine, it's not every day that someone decides to start a pet memorial business. This decision came after the passing of my two dogs, Chase, who was with me for twelve and a half years, and Onyx who was with me for fifteen and a half years.
My dogs weren't just pets to me; they were a big part of my family. If you're familiar with my dog training videos, you will have seen my devotion to training my dogs. When they were younger, I spent hours each day training them to do various things, whether it was obedience, tricks, agility, or skijoring. It was fun. Training them gave me a sense of purpose and fulfillment. Sadly, Father Time catches up with all of us.
Chase, a sweet border collie, one day couldn't walk anymore. She couldn't feel anything in her hind legs, and after a diagnosis by the vet, we determined that it was related to her spinal cord. Along with various other health issues that made her life even more difficult, I decided to put her to sleep at age 12 1/2.
I was heartbroken.
Eight months later, my other dog, Onyx, a beautiful Siberian husky, started having a hard time walking. She had developed arthritis in her hind legs, and we were managing it with pain medicine. However, it was getting worse. So I did as any good pet parent would do: I got her a special dog wheelchair to help her walk. She loved it.
However, a week and a half later, she stopped eating. Within two days, her energy levels had plummeted to the point of no longer being able to walk. The last night I spent with her, I knew the end was coming. I slept beside her all night, and at 8:00 a.m. she passed away in her sleep. She lived to 15 1/2 years old.
It was very difficult to lose both of my dogs so close together. I knew that one day this time would come, but you can never be truly prepared for it.
When they had both passed away, I wanted to organize a memorial to honour their lives and to remember them for everything they had given me over the years. I made inquiries at my local memorial dealers and even looked online, but they either didn't do small memorials or the ones being sold, frankly, lacked quality.
So I decided to make my own.
You may not know this about me, but my family has been involved in the memorial trade since 1965. My father was a memorial engraver for 43 years until he retired in 2008. Growing up, I would go to work with him and watch him engrave memorials in cemeteries. I always admired the intricate work of his trade.
As I grew older, my father taught me everything he knew about engraving memorials, and I took over the family business once he retired. I never imagined using this skill to create a memorial for my own pets. But that's what I did.
Here's the memorial I designed for my dogs: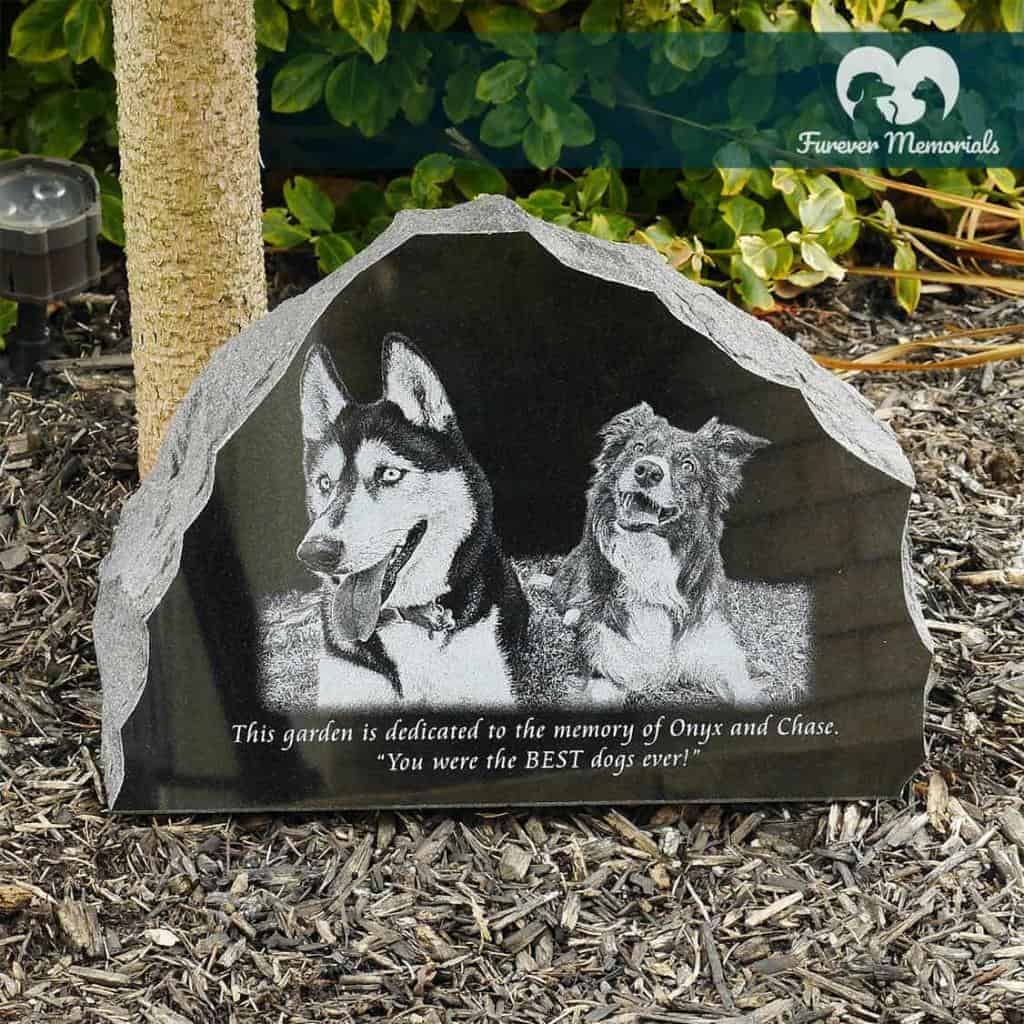 I put the memorial in my front garden, and everyone who sees it compliments me about the craftsmanship and is amazed at how good it looks. It's picture perfect!
It didn't take long for the word to get around, and the next thing I knew, I had neighbors and relatives asking me if I could make one for their late pets.
Here's another pet memorial I designed for a relative's pet: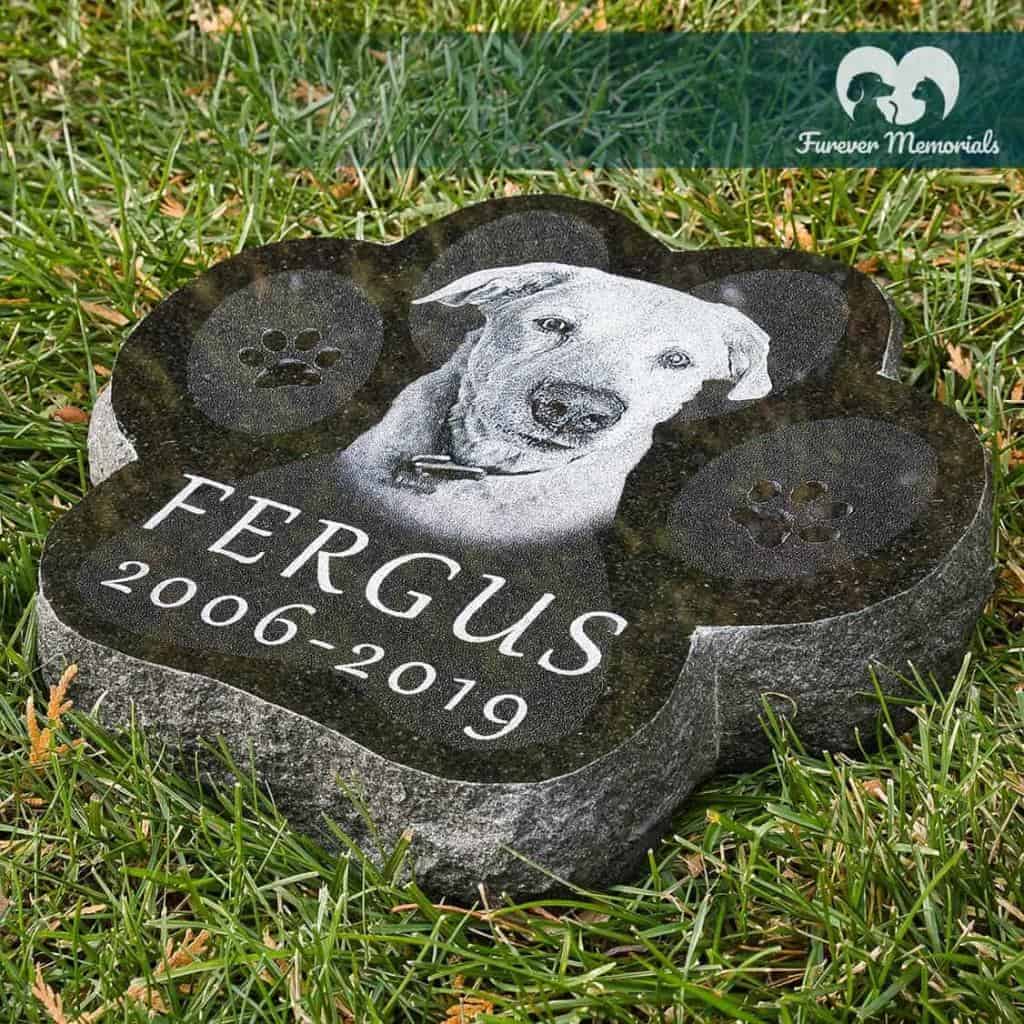 As you can see, I take pride in my craftsmanship, and I consider it an honour to be trusted with the task of engraving pet memorials that mean so much to people.
This is why Furever Memorials was born!
I decided to use my skills as a memorial engraver to sell high-quality granite pet memorials.
On this website, you'll find a variety of pet memorial styles and designs you can choose from. Each pet memorial can be custom ordered to your specifications—with or without a photograph, any font you'd like, and saying anything you'd like.
If this is something you're interested in, click here to start designing your pet memorial now.
If you have pet-loving friends you think would find this information valuable, be sure to share it with them on social media using the buttons below.


Jean Cote
Pet Memorial Specialist, Furever Memorials