On this day, pet owners from around the world remember their lost pet. I've compiled a list of when World Pet Memorial Day is for the next 5 years.
World Pet Memorial Day is celebrated on the second Tuesday of June. In 2021, it will be celebrated on Tuesday, June 8, 2021.
| YEAR | DATE |
| --- | --- |
| 2021 | Tuesday, June 8, 2021 |
| 2022 | Tuesday, June 14, 2022 |
| 2023 | Tuesday, June 13, 2023 |
| 2024 | Tuesday, June 11, 2024 |
| 2025 | Tuesday, June 10, 2025 |
World Pet Memorial Day was originally created by the American Veterinary Medical Association as a way to remember all the pets that are no longer with us.
Here's a few things you can do to remember and honour your pet this World Pet Memorial Day…
Find A Special Picture Or Video
In today's social media age, everything is forever. The memories you've shared a few years ago will still be there. And some of the posts you've made will be of your lost pet.
Take a breath. This will be emotionally challenging. But if you can get through it, it will help you with the healing process.
Scroll through your posts, and look for one special moment you shared with your pet. A moment that made you laugh so hard that you were almost crying. Or it a moment that fills your heart with love or joy.
It can be a photo or a video. As long as you feel like this was a special moment between yourself and your pet.
When you've found it – share it again with your friends and family members. And explain to them why it means so much to you.
Walk In Your Pet's Honour
If you've lost a dog, a great way to remember and honour your dog is to go for a walk in their honour.
Was there a special trail or hiking area that your dog really loved going to? Maybe your dog love going to your dog park or taking a trip to your local pet store.
Wherever it is, pick a place that your dog loved going to.
Take some time today to re-visit this place while keeping your dog's memories in your heart. Remember how much your dog loved this place and how it brought them happiness.
If you want to interact with other dogs during your walk, be sure to bring some delicious treats with you.
Make A Donation
What better way to honour your pet's memories than by helping pet-kind with a donation to a charitable organization?
Many organizations that help animal welfare need donations to be able to provide their services. It can be your local pet shelter, the SPCA, the Humane Society, or any other organization that is dear to your heart.
For example, where I live, the Ontario SPCA uses 59.0¢ for every dollar received from donations to provide animal care, shelter & community medicine, rescue & relief and provincial animal welfare legislation enforcement.
Alternatively, you can search for a GoFundMe campaign from a pet lover that desperately needs help. Many of them need help paying for veterinary care and even a small donation can go a long way.
If you want to experience your gift, you could go to your local pet store and give the clerk at the cashier a cash amount for them to pay it forward. It could be $20 all the way to $100. And then watch unsuspectedly the reaction of people as they walk up and realize their purchase has already been paid for.
Craft Something With Your Pet's Belongings
If you are crafty, you can do something special with an item that once belonged to your pet.
Maybe it's your pet's name tag, one of their toy, their food bowl or even their collar. It can be anything.
For example, my wife who is very crafty made a beautiful frame with the collars inside, along with photos of our dogs whom both passed away.
Here's what is looks like.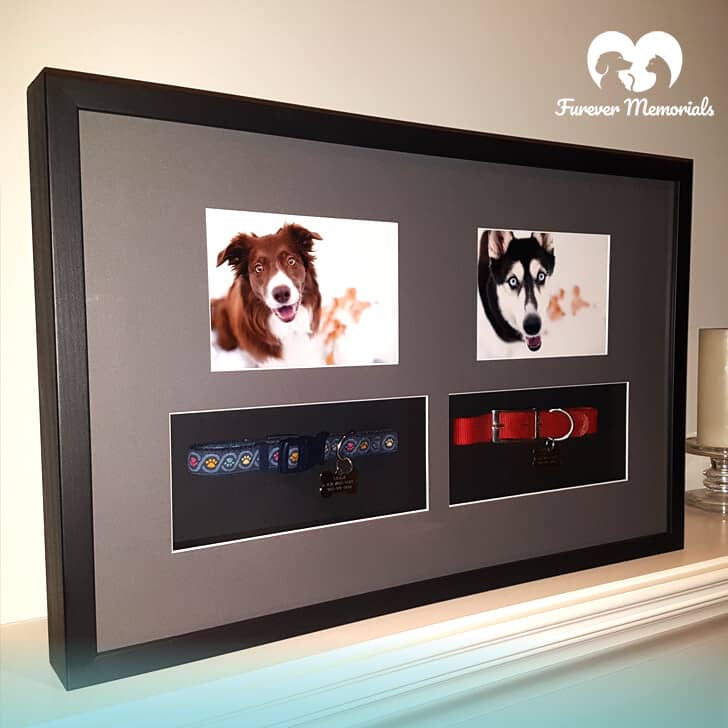 Isn't it beautiful? You can do the same thing with any object that once belonged to your pet. As long as it is meaningful to you and reminds you of your pet.
For example, you could plant flowers in your pet's food or water bowl. Or making a bracelet using your pet's name tag. Or wrap your pet's collar around a candle and lighting it.
There's really countless ways you can honour your pet, all it takes it a little imagination.
Create A Scrapbook
If you're really feeling crafty, why not take an entire afternoon and create a beautiful scrapbook full of your pet's memories?
Dig into your pet's paperwork and see if you can find their birth certificate or adoption papers.
Print some photos using your home printer (or print them for cheap at your local business Staples.)
Scrapbooking doesn't have to cost a lot of money either. Take a trip to your local dollar store and you can get all of your supplies for under $10.
Get things like…
A blank notebook (not too big so you can fill it in one afternoon.)
Glue (so you can stick photos in your scrapbook.)
Scissors (if you don't already own a pair.)
Glitter (if you really want to highlight some of the pages.)
Multi-colored paper (so you can cut special designs and glue them in various places inside your scrapbook.)
The sky is the limit. There's no right or wrong way to make a scrapbook. It's whatever you want. The key is for each page to remind you of something about your pet.
Maybe one page is about what he loved your pet love to eat… The next one about what your pet loved to play with… And the next where your pet loved to sleep… You get the idea.
When you're done making your piece of art, make a short video of you going through each page and send it privately to your close friends and family members.
Plant A tree
If you're someone with a green thumb, why not take a couple of hours to plant a tree in your pet's honour?
Depending on the species of tree you choose, it may live for the next 50+ years. And maybe even longer.
This way every time you see this tree, it will remind you of your pet and how it was planted in their honour.
If you don't have room for a tree, how about a small garden in your backyard. Or planting a raspberry or blueberry bush?
Those delicious fruits and vegetables you harvest will be in your pet's honour.
If you live in an apartment, how about planting a small citrus tree that you keep indoor? It'll brighten up your living room and give you delicious tangerines, lemons or limes.
Volunteer
If you have the time, volunteering at you local animal shelter in your pet's honour can make a huge difference.
A lot of animal shelters need help with various tasks, such as cleaning kennels, bathing animals, feeding animals, and doing lots and lots of laundry.
You'll get meet, play and interact with lots of different animals.
It's true that being near other pets after losing one's own pet can be difficult. However, it can also be very therapeutic. Interacting with other pets can help with the healing and grieving process.
Try not to compare the pets at the animal shelter with your lost pet. Instead, give them your unconditional love. And hope that each and every one of them find a loving home.
Light A Candle
If you're feeling more low-key, or if you can't commit your time to some of the ideas listed above, then a great alternative could be to lighting a candle.
Place a photo of your pet on your mantel and light a small candle that will last a couple of hours.
While the candle slowly burns, think of the many happy memories you shared with your pet. Think of anything that brings a smile to your face and joy in your heart.
It could be the day you brought your pet home. Or the time you gave them their first bath. Or the moment they did something funny with their toy.
Don't swell on the "what if's". The more you flood yourself with happy thoughts during this time, the better you will feel.
Other Pet Celebration Days
Remember Me Thursday. Celebrated on September 23, 2021, this day of celebration brings awareness to the millions of pets in shelters waiting for a loving home. Also serves as a reminder that many pets never get a second chance. #RememberMeThursday
Adopt A Pet Month. Celebrated every October, this month is an effort to help the millions of animals waiting in shelters for a loving and caring home. It was originally created by American Humane.
Take Your Pet to Work Week. Celebrated during the week of June 21, 2021 to June 25, 2021. This week of celebration serves as a way to highlight our immense love for our pets. It is also intended as a way to promote pet adoptions.
Conclusion
Whatever you choose to do on World Pet Memorial Day is totally up to you. There's no "right" or "wrong". It just serves as a way to honour and remember your lost pet.