There's no doubt that Canada is a nation of pet lovers. Forty-one percent of households have at least one dog and 38 percent at least one cat.
But, whether you have a dog, cat, or a whole zoo, you know that, one day, you'll have to say goodbye to your furry family member. When that sad day arrives, you may decide to have a small gathering to commemorate the life of your lost pet. But have you considered what to do with their cremated ashes?
In the same way that we memorialize the lives of our departed human loved ones, many grieving pet lovers appreciate the opportunity to do the same. As such, there are now many beautiful and creative ways to pay tribute to your pets. And many of these involve using a pet's ashes to achieve some kind of closure with a symbolic pet memorial or meaningful ceremony.
Keep reading to explore some of the different things you can do with your pet's ashes to celebrate the special relationship you had with each other.
Dedicate Some Time to Grieve After Your Pet's Cremation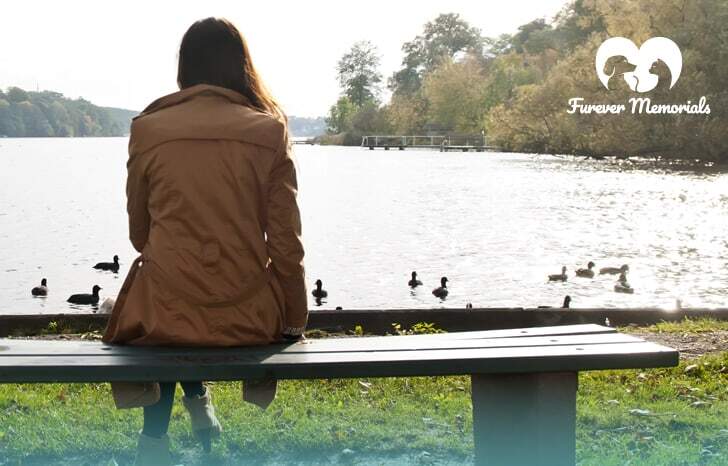 Before you make any decisions about what to do with your cremated pet, dedicate some time to grieving for them and reflecting on the bond you shared. The period immediately after cremation is an especially difficult one for most pet owners. Forcing yourself to choose a pet memorial or arrange a gathering can involve a lot of added stress and pressure. And right now, that's the last thing you need.
After all, whatever you choose to do with your pet's ashes, it should be personal and meaningful to you. They were your best friend and this is your grief. Your memorial to them should honour their place in your heart and your memories of them, so you should always do what feels right. And a lot of the time, that means not rushing into anything.
It can be a comfort to know that your pet's ashes will never expire. If you're unsure of what to do with them or how best to memorialize your pet, it's fine to take as long as you need to process your grief. Once the raw pain begins to subside, you will start to feel strong enough to consider your options. And, since you'll be in a much better emotional place, coming up with the perfect pet memorial won't take such a toll on your mental health and wellbeing.
Once we enter the acceptance stage of grief, we're often glad to have an outlet for the love and affection we can no longer direct towards our pet. That said, waiting weeks, months, or even years to memorialize your pet doesn't mean you loved them any less. Remember, there is no wrong way to grieve the death of a pet, there is only your way.
Keep Your Pet's Ashes at Home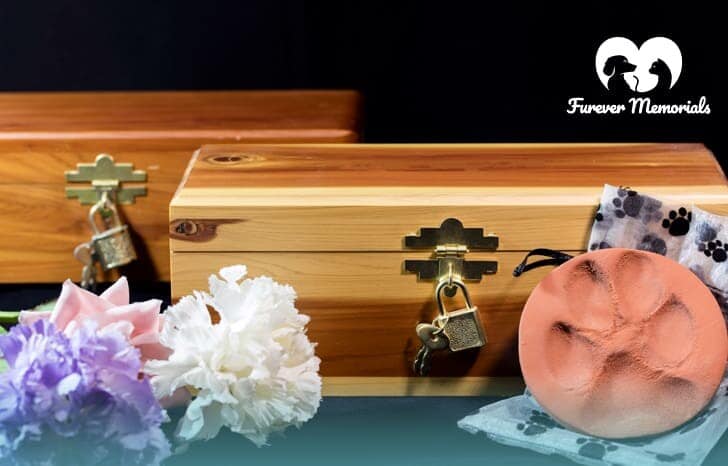 After cremation, one of the easiest ways to memorialize your pet without making any commitments is to keep their ashes at home. Cremation urns offer a classic yet personal way to display your pet's ashes. And, should you choose to do something different with their ashes in the future, an urn will keep the ashes safe and dry in the meantime.
In time, you may then decide that you'd like to keep your pet's ashes at home with you on a permanent basis. If so, you might want to select a more personalized urn for your cremated pet. Or, instead, you may prefer a more unique container, such as a fishbone-shaped vessel for your cat's ashes. Alongside a pet cat memorial, this would make a fitting tribute to your kitty's favourite snoozing shelf.
As more and more pet owners seek ways to honour their pets' lives, it's becoming easier to find urns and other vessels made for pet ashes. Some options can feature pawprints or an etching of your pet's image while others keep things simple to blend in with your home's decor. Whatever kind of urn you choose, it's sure to make you smile every time you look at it.
Create a Backyard Cemetery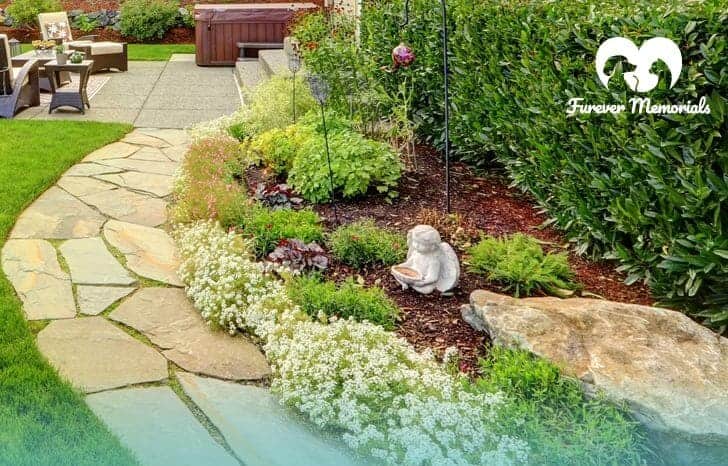 If you know you'll be living in your current home for a long time, you may want to create a small backyard cemetery for your cremated pet. Doing so is a great way to memorialize your pet and keep them close by.
A backyard cemetery also serves as a private place for a burial and to visit and remember your pet. This can be helpful when working through the grieving process, and honours the important place your lost pet held within your family. Plus, if you have children who are also missing their four-legged friend, it's good for them to know they can connect with them whenever they need to.
A backyard cemetery can be as elaborate or as modest as you choose. You might want to commission a life-sized statue of your pet. Or you might prefer to go for a more discreet small engraved stone in your pet's favourite digging spot. Whatever you choose, keeping it personal is always the best way to commemorate their life and your loss.
If you have a garden in your outdoor space, this is an ideal location for installing a pet memorial, whether large or small. Each year when spring returns, the flowers that bloom in among your pet's ashes will remind you of nature's greatest gifts to us, and how we must cherish them while we can.
Alternatively, if you may want to contact your local town or municipality and inquire if there is a pet cemetery where you could bury your pet's ashes and erect a pet memorial.
Scatter Your Pet's Ashes in a Meaningful Place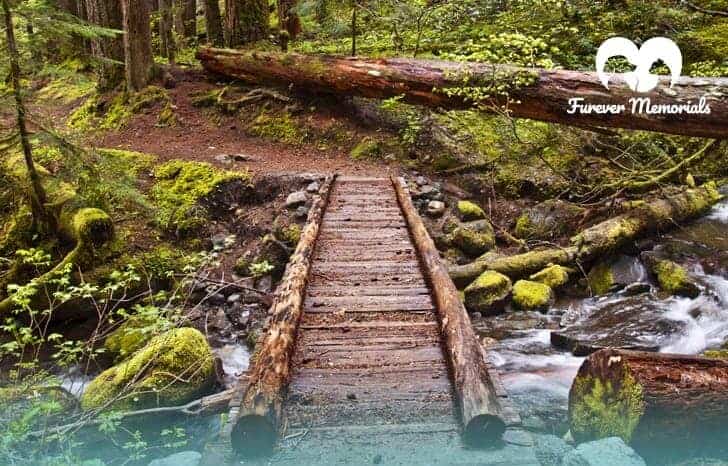 Scattering your loved one's ashes in their favourite place is a time-honoured tradition. These days, grieving owners also like to memorialize their departed pets by scattering their ashes. This might be in their pet's favourite place or a significant spot in their journey together.
This could be a beach your dog loved to run around and play on or the base of your cat's favourite climbing tree. For dog-owners especially, there are bound to be lots of meaningful places because of the adventures you shared in those different locations. Whether it's a local park or the top of a remote mountain, it's a beautiful feeling to be able to return your beloved pet to nature. And, as well as allowing them to live on in their favourite place forever, you'll have that place to return to when you want to feel closer to them.
If your chosen scattering location is a public place, such as a national park, you should be able to scatter your pet's ashes. Although, it's good practice to ask first and keep things discreet with a pet memorial away from the crowds. You'll also have a more private place to go and visit when you want to remember them as part of the healing process.
Depending on the final resting place of your cremated pet, you may be able to arrange a short ceremony there to mark the occasion. This could involve sharing stories about some special moments, such as the day you took them home, or anecdotes about their funny habits.
Even if a ceremony isn't possible, consider inviting a friend or family member who also loved your pet to come along. You may want to be alone while you scatter your pet's ashes and take a moment to remember them. But, having a loved one close by if you need them will be a comfort during this emotional time.
One thing to take into account when scattering your pet's ashes is the wind speed and direction. A strong and unexpected breeze can carry your pet's ashes to a completely different location. Their ashes may even end up going in someone's face or all over their clothes. With this in mind, try and choose a day with next to no wind. If possible, you should also head to an area in your chosen location that's less open and more sheltered, especially if there are people around.
To make scattering pet's ashes easier, many people now use special scattering urns made for this purpose. Their design allows for easy scattering and maximum control, even when scattering away from your body, such as over a cliff or at the top of a mountain. Thanks to their unique open and close mechanism, these specialist urns also make it easier to scatter your pet's ashes in several different locations. Or, you may want to scatter some and save the rest for another pet memorial idea.
Plant a Tree of Remembrance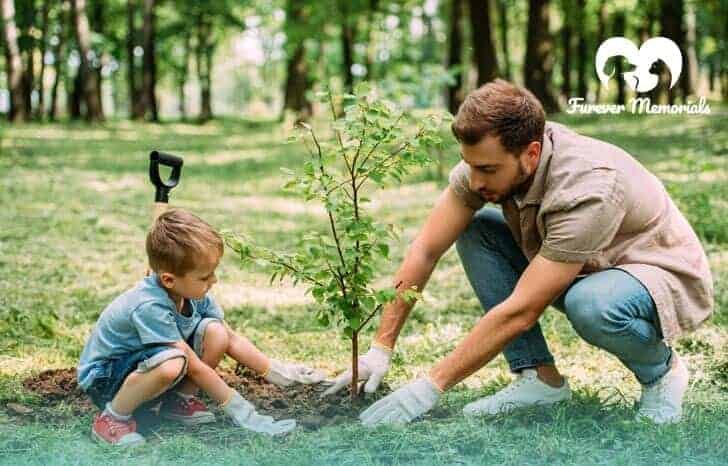 Another way to return your furry friend to nature is to plant your beloved pet's ashes and grow a tree as a lasting symbol of remembrance. This beautiful living reminder of your pet can be a meaningful addition to a backyard cemetery. But it would also work as a stand-alone symbol of the special place they held in your family's home and hearts.
Although you could go out and plant any kind of tree as a pet memorial in your garden, there are companies who offer this service, providing advice and instructions on planting and caring for your tree. These companies also advise you which trees grow best in your area to ensure that your tree thrives, honouring your pet for years to come.
Another way to plant a tree in your pet's honour is to sponsor the planting of a new tree in a national forest. If it was a forest you enjoyed visiting with your pet, this could be the perfect solution for those of you without a backyard.
As well as helping to boost the number of trees in an area you both loved, this will give you a place to go and remember your beloved pet. And, if it's possible to find out which tree they planted in your pet's honour, you may also want to scatter their ashes there as a fitting tribute to their memory.
Commission a Granite Memorial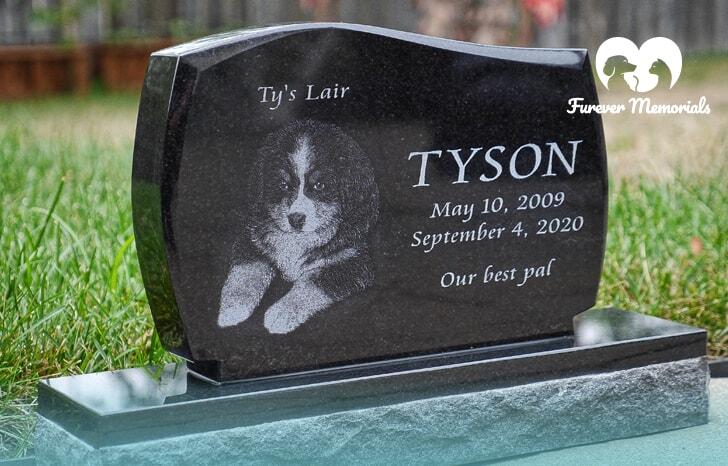 Just as a memorial tree is an enduring memorial for your pet, commissioning a granite memorial stone is the perfect way to honour their memory in a lasting way.
This kind of memorial could be the main feature of a backyard cemetery or in pride of place on your mantelpiece. Wherever you choose to display it, a granite pet memorial will serve as a place to visit your pet and keep them close to you. However, unlike a memorial tree, you'll be able to take your beloved pet's granite memorial with you if you move to a new home.
Although a high-quality granite memorial stone requires some minimal care and maintenance to keep it in great condition, this kind of memorial will last a lifetime. Made with thick jet black polished granite, your pet's memorial stone will be strong and sturdy enough to withstand the harshest winters and most humid summers. So, unlike other low-grade pet memorials, you won't need to worry about them getting broken, blown away, or falling apart after bad weather or a few years of wear and tear.
Beyond the durability of the granite material, the engraving processed used in the creation of these granite pet memorials is light-years ahead of the competition. Thanks to the use of a 'diamond impact' engraving process, if you commission an image as part of the stone, the incredible sharpness, brightness, and lifelike quality of your pet's picture will blow you away. Even if the image you provide of your pet isn't the best quality photo, a pre-engraving editing process ensures your stone will feature the most realistic and precise image you could imagine.
Of course, you don't have to choose a granite memorial with a photo if you prefer something more understated. As with any kind of pet memorial, the way you honour your pet is completely your choice. As such, there is a huge range of options when it comes to deciding on the text, image, design, and shape of your granite pet memorial. For example, while you might love the idea of a cute pet paw memorial, others may prefer a more classic memorial crown.
Having so much choice means you'll need to put some thought into the exact memorial you want. But, the sheer scope of options also ensures that the memorial you choose will make your pet's final resting place as memorable as possible.
Grow a Houseplant in Your Pet's Ashes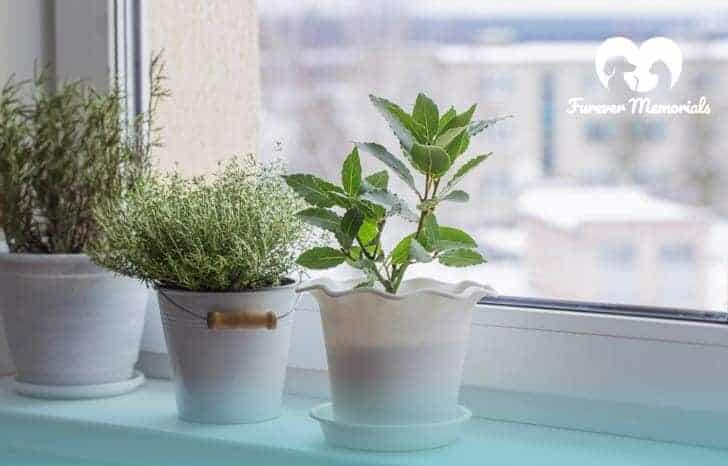 If you don't have a garden or the space for an outdoor pet memorial, planting your pet's ashes in a small bonsai tree or indoor plant is a great way to commemorate the life they brought into your home. One big advantage of planting your pet's ashes in an indoor tree or plant rather than outdoors is that you can take it with you when you move house.
To honour their importance to your family, you could display this symbolic plant out in pride of place in a communal room. Or, you may prefer to place the plant in your pet's favourite corner of your home. This might be where they often curled up to sleep, or beside the doorway they used to greet you from when you came home from work.
Immortalize Your Pet in a Portrait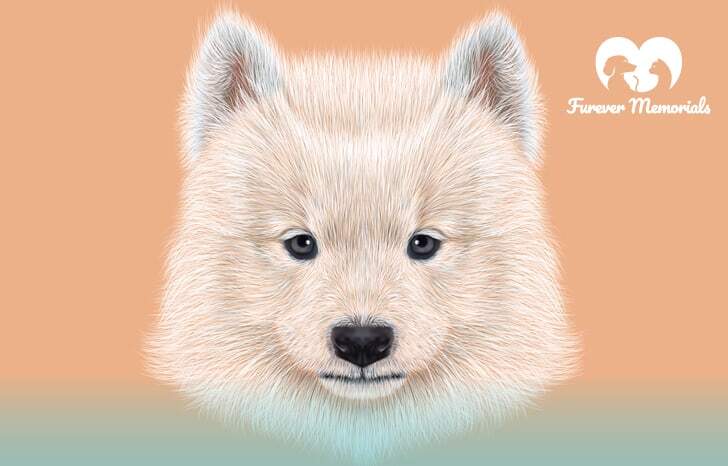 If you're missing your pet's adorable face as well as their presence in your life, you could always immortalize your pet in a portrait.
There are artists who specialize in creating portraits of pets, working from photos to create a lifelike image of your beloved family friend. For a more personal and unique portrait of your lost pet, some will even incorporate your pet's ashes into their work.
However, if you're considering commissioning an artist to paint a portrait of your pet, it's important that you like the style of their work. After all, the portrait should honour your pet's memory but you also want it to fit in with your home's interior decor.
Turn Your Pet's Ashes into Jewellery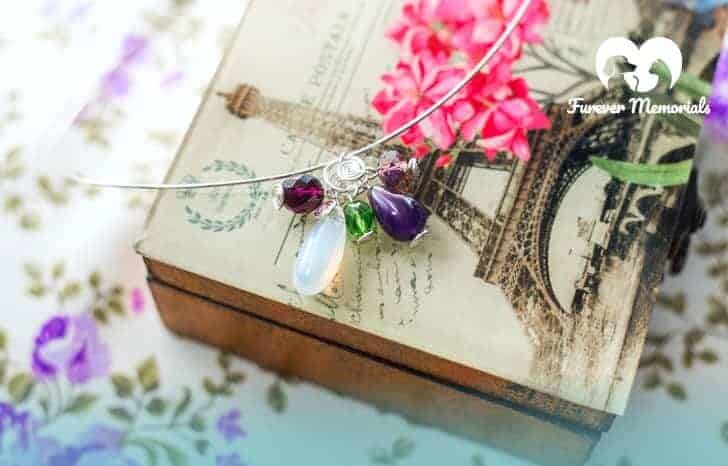 If your lost pet was always by your side, the idea of using their ashes to make a precious gemstone or as part of another form of jewellery could be of interest to you. The most popular option is to turn your pet's ashes into a diamond set in a piece of jewellery. Although, there's also the option of placing a small amount of their ashes in a wearable urn pendant or locket.
Whatever style of design you choose, as well as a unique keepsake, jewellery made from pet's ashes can help with the grieving process. This is because, as a wearable memorial, it allows you to connect with your pet and their energy through physical touch. What's more, any time you receive a compliment on the jewellery made from your pet's ashes, you'll get the chance to remember your pet. This helps you keep them alive whenever you share their story with someone new.
Some manufacturers of these memorial gemstones even allow grieving owners to take part in the process of turning their pet's ashes into a diamond. This can be a very cathartic experience for owners, who then feel even more connected to the diamond that they've helped produce.
The good news is, it takes less than half a cup of your pet's ashes to make a diamond, and a lot less for a wearable urn. So, you'll have enough ashes to make diamonds or other gemstones for several family members if you wish. Or, you can use the remaining ashes in another kind of pet memorial or celebration.
Infuse Your Pet's Ashes in a Decorative Ornament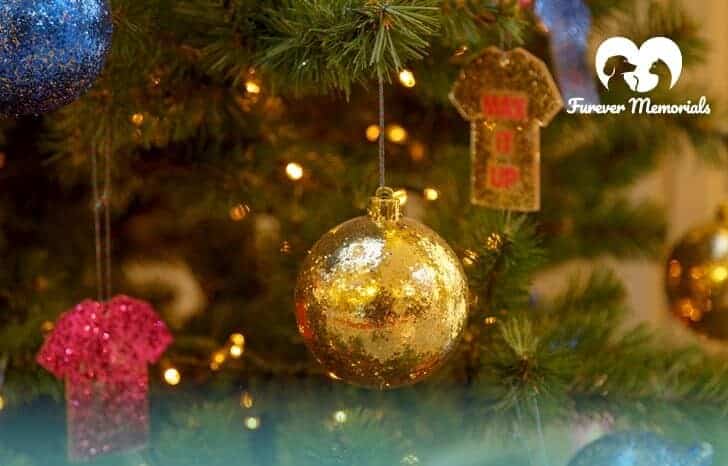 If you are a pet owner who like the idea of creating some kind of permanent pet memorial but aren't sure about turning their pet's ashes into jewellery, a decorative memorial ornament could be the perfect compromise.
These days, many different companies offer the possibility of infusing your pet's ashes into a decorative glass ornament. Depending on your preferences, you could engrave it with a heartfelt message, include your pet's name in the design, or leave it plain. Whichever you prefer, you're sure to find a unique pet memorial that suits your personal style and complements your home decor too.
Launch Your Pet's Ashes in a Firework Display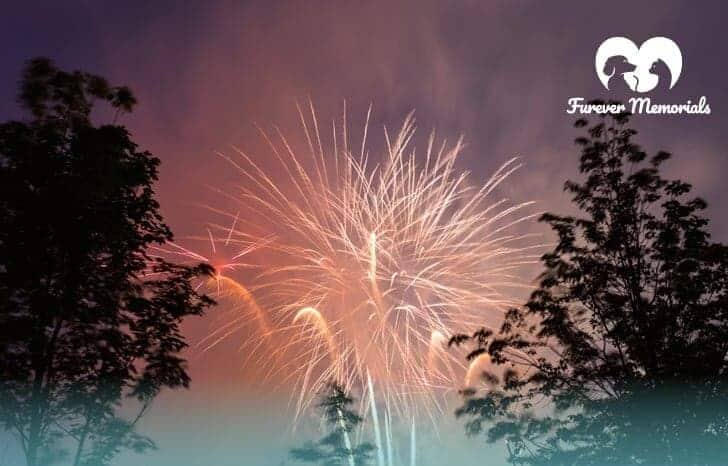 Most pets hate the sound of fireworks going off outside. But, you could say that a colourful display of fireworks lighting up the sky is the perfect way to send off your lost pet with a bang.
That said, there are restrictions on backyard fireworks in most parts of the world. As such, if you want to launch your pet's ashes in a firework display, you'll need to do arrange this service through a specialized company. This fireworks display could serve as the final part of a memorial ceremony or as a way to celebrate your pet's birthday among friends and family.
Deciding What to Do With Your Pet's Cremated Ashes
With so many different options to choose from, it's important to take your time when deciding what to do with your beloved pet's cremated ashes.
You may even want to honour your pet in a combination of ways to represent the huge impact they had on your life. For example, you could use some of your pet's ashes to make a diamond, keeping their presence close to your heart. Then, you could scatter the rest of your pet's ashes in their favourite place as part of a memorial ceremony.
But, no matter what you decide to do with your pet's ashes, there's no better way to remember your pet after cremation than with a high-quality granite memorial. After all, your pet was your pride and joy, so an enduring symbol of their memory should take pride of place in the home you shared with them.
Here at Furever Memorials, we understand the pain of losing a beloved pet. And we also understand how important it is to honour our beloved furry family members with a memorial that is as special and unique as they were. For more information about the pet memorial options available to you, feel free to contact us today.